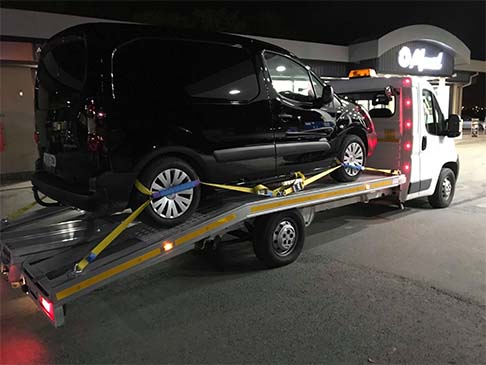 24/7 Vehicle Towing and Recovery In Dublin areas within 30 minutes.
Your safety is very important to us so please follow our safety guideline if you have broken down on a busy or badly lit road or motor way,  Reassure any vunerable adults or childen we are on our way.
A, If it is not safe to leave your vehicle,Stay in your car with your seat belt on, switch on your hazard lights and call us and emergency services on 999 or 112. 
B. If you can get to the hard shoulder exit your vehicle on the passenger side.  Wear suitable clothing and hi visibility vest if possible
If you don't have a mobile walk to an emergency phone on your side of the carriageway. 
On a motorway try and get the car off the carriageway if safe to do so. Exit Vehicle on the left hand side (Passenger Side), Wait behind the barrier Don't Put a warring triangle on the hard shoulder
C, On a dark road or badly lit road put your hazard lights on and keep your side light on also.Set up your warning triangle watch out for any soft verges wear reflective clothing if possible and Call us  for advice on 0871161102 our staff are always available to assist you  or additionally
cheek out the www.theaaireland.ie/roadsaftlytips 
D, Stay well away from moving traffic.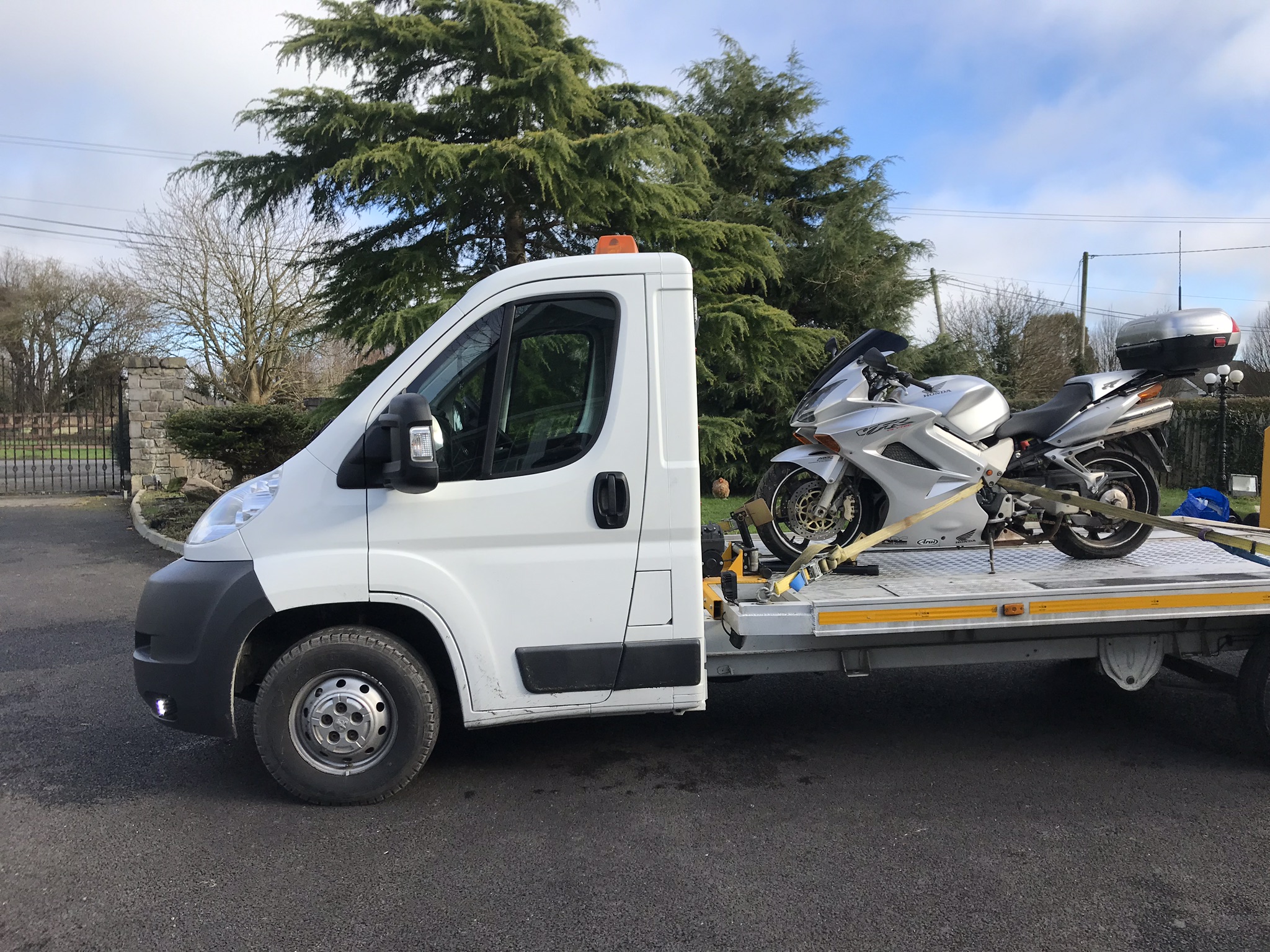 Roadside Breakdown Assistance in Dublin since 2009
Recovery CC is a small but experienced team lead by Cameron,  we are a Irish run Company with ten years experience in assisting and towing  vehicles our services include Towing Cars, Van, Jeeps, 4x4s, Quads Small Tractors. light Plant Machinery, Boats, Motorbikes, Trucks and Luxury vehicle up to 3.5 tons across Ireland and the.
We pride ourselves on delivering a top quality service at competitive prices with hundreds of satisfied customers with a 5 star google rating.
100% customer satisfaction is our number one priority.
Our services also provide
Vehicle Battery replacement
Jump Starts
Wheels change
Flat tyre assist
Fuel Top up
Fuel Delivery
Breakdown Towing, Road assistance
Vehicle recovery
Luxury vehicle Transportation
Scrap car removal
We Recover from all Garda Pounds
We come to your home, work, or roadside.
Vehicle Recovery Services in Dublin
CC Recovery Dublin is a vehicle towing service that is quick, friendly, and comprehensive in the Dublin area. We use cutting-edge tow trucks and have years of experience in the towing industry to provide clean, damage-free towing services that provide you with the comfort and peace of mind you deserve.
We provide 24 hour towing and roadside assistance in Dublin and the surrounding areas, as well as a variety of car rescue services. Whatever the problem, we will gladly dispatch a fully equipped tow truck with a skilled and competent tow truck driver to assist you.
Call us at 087 116 1102 in Dublin today to learn more about our tow services. We are ready to assist you if you require emergency roadside assistance for any reason.
DO YOU REQUIRE CAR TOWING IN DUBLIN?
If you require emergency auto recovery in Dublin, you can rely on us. All of our drivers are licenced and insured, and they prioritise the customer. When you call us, you can be sure that we'll be there as soon as possible to transport you and your broken-down vehicle to safety. Your vehicle will be perfectly safe in the hands of our Dublin towing business, and we may transport it to a nearby garage of your choice. We also provide long-distance towing.
Our specialists are not only highly qualified, licenced, and certified to get the job done, but they also want your day to return to normal as soon as possible and with as little stress as feasible. From emergency light, medium car, and motorcycle towing to routine vehicle transport and beyond, we've got you covered. Auto Recovery Dublin is dedicated to providing you with the high-quality vehicle recovery service you deserve.
You must be adequately prepared for any type of emergency that may arise while travelling on highways for work or long holidays. One method to prepare is to get roadside assistance from a car towing service provider. This will go a long way toward providing you peace of mind while driving.
Car towing service firms in Dublin offer towing services anywhere and at any time. They offer the most effective type of assistance when you are lost in the middle of nowhere. These companies also have storage chambers where they can keep your car before taking it to the technician.
CC Recovery Services Dublin is your one-stop solution for towing and recovery assistance
You may believe that dealing with a vehicle emergency in the middle of the night is difficult. Never fear, since we are here to help you make the best of a bad situation.
Our top objective is to provide excellent service. We guarantee a prompt and courteous response 24 hours a day, seven days a week, 365 days a year at CC Recovery Services. We will ensure that an appropriate tow truck from our well­maintained fleet arrives where and when you need it.
We transport your vehicle in a safe and efficient manner
Our drivers respect each vehicle as if it were their own. They move your vehicle with care, regardless of its age, make, or condition, to ensure that no additional damage occurs during transport. Cars aren't the only vehicles we travel; we also transport motorbikes, dirt bikes, and quads, so give us a call and we'll give you the best estimate!
Family-Owned and Operated CC Recovery Services Dublin is a family-run company. When you call us for assistance, you become a member of our family, not just a customer.
CC Recovery's towing services will provide you with the greatest outcomes for your automobile towing service needs in Dublin.
Dublin Car Towing Service that is both affordable and professional
One of the worst things that may happen to you is for your car to break down unexpectedly. Whether it's a tyre blowout, a battery problem, or a radiator problem, automotive troubles can happen at the most inconvenient times. When you are in this predicament, all you need is a vehicle towing firm to safely transport your vehicle to a repair shop.
CC Recovery has been in the auto towing market for many years. We have a fleet of dependable cars and equipment that allow us to carry out our towing service efficiently. Our vehicles are serviced on a regular basis by certified and competent mechanics. Our consumers trust us because we provide consistent, rapid, and high-quality service at reasonable prices.
Both the public and private sectors have entrusted us with providing safe and dependable car towing services in Dublin. You can store your vehicle safely in our secure facility (which is constantly monitored every single day).
Here are the services we provide to consumers in Dublin and its surrounding areas 24 hours a day, seven days a week:
Towing assistance with a flatbed tow truck
Delivery of fuel
Roadside flat tyre repair
Off-road vehicle recovery with winching
Roadside assistance in Dublin
Do You Have an Out-of-Town Breakdown?
Contact CC Recovery to come to your aid. We can help you with rapid, dependable, and economical vehicle towing and collision repair. We are your one-stop shop in Dublin for all of your automobile towing needs. We can tow you in towing your vehicle to our shop, repairing it, getting you a rental car if necessary, or getting you back on the road as soon as possible. To take care of your car towing needs, we have the greatest hands in the field.
Do You Require the Services of a Tow Truck in Dublin?
We provide high-quality towing services in Dublin and its surrounding areas. Our extensive fleet of equipment, together with our skilled team, enables us to provide a variety of towing services to match your different requirements. Among our unique car towing services are:
Towing of light and medium loads
Float and roll-off services (for machinery moving)
Towing and recovery on a large scale
Recoveries from accidents
Towing services in your area
Towing across long distances
Towing in an emergency
Towing by the police
Towing exotic automobiles
Towing with a flatbed
Towing a show car
and a lot more
All of our car towing services are performed by experienced and competent operators. We take pride in being professionals at what we do, which is handling difficult towing and recovery circumstances.
Dublin's Best Tow Truck Service
At CC Recovery, you can count on us to provide quick, high-quality tow truck service in Dublin without sacrificing safety or quality. We understand the difficulty you're in right now. Most folks who called us to tow their car or deliver gas were already having a bad day and were stressed out by the unpleasant experience. As a result, we vow to approach the matter without adding to the stress you're currently feeling.
Don't let your vehicle's circumstances bring you down. Take control of the issue by calling CC Recovery and allowing us to give you with an excellent tow truck service you've never had before.
Why Should You Use CC Recovery for Car Towing in Dublin?
CC Recovery is the most economical and competent car towing service you've been looking for. Nobody wants to spend their hard-earned money on car repairs, especially when the defects are not your fault. We recognise that dialling our number is usually the final resort. As a result, when we arrive, we will treat your work properly and immediately in order to alleviate the stress that you are already experiencing.
Our prices are also reasonable. We provide clear, reasonable, and honest pricing for car towing services in Dublin. We will arrive where your vehicle is, do what we are known for, and hope that you are so impressed with the quality of our service that you suggest us to others and even call us for further projects. Nothing would make us happier than a satisfied customer at the end of a long and stressful evening. As a result, you can always rely on us as the best auto towing service in Dublin and its surrounding areas.
When a vehicle towing service is required, the client must be treated with discretion and compassion. We do not consider any scenario to be too little to demonstrate these caring feelings. Regardless of why you require a vehicle towing service in Dublin, CC Recovery will be there for you as soon as we receive your contact and will not make you feel horrible about your position.
Get the Most Skilled Car Towing Service in Dublin.
If you want to acquire true professionalism, you must use the services of a car towing service. Our drivers are held to the greatest level of professionalism in the auto towing sector. Our employees are well-trained, friendly, and dedicated to complete your job as quickly as feasible. We will provide you with the automobile towing service that you require while maintaining the highest level of professionalism that you deserve.
Dublin Tow Truck Service at an Affordable Price
CC Recovery provides a comprehensive range of vehicle towing services in Dublin and its surrounding areas. We have everything it takes to get to where you want us in 30 minutes or less. Our crew is always on the ground to meet your needs at any time of day (or night). We make no apologies for being dependable to our customers, and we will arrive at your location as soon as possible to provide our tow truck service.
Towing services are provided by CC Recovery's qualified and professional team. If you find yourself in a position where you require the assistance of a results-oriented auto towing company, please do not hesitate to call us. We will deploy one of our towing specialists who will stay with you until the problem with your car is resolved and your vehicle is in good enough condition to provide you with enjoyable trips again. Please contact us if you would like to learn more about our car towing service in Dublin or to acquire a free quote for your request.
WHY SHOULD YOU USE CC RECOVERY?
If you need quality towing in Dublin, CC Recovery Dublin is the best option. We are a family-owned towing company that has been in business for many years. We take pleasure in our ability to consistently provide high-quality vehicle recovery services to both existing and new customers.
Rest assured that your automobile is being handled by the best, thanks to the use of the proper tools and towing equipment. We can assist you with long-distance or local towing.
DUBLIN CAR RECOVERY AND MOBILE TYRE FITTING SERVICE
Looking for a professional car breakdown recovery service or a mobile tyre fitting service in DUBLIN at a reasonable price? Then CC Recovery is here to help. At CC Recovery, we offer a professional 24 hour breakdown and mobile tyre fitting service in East DUBLIN, Central DUBLIN, and around Greater DUBLIN at cheap rates.
Our fully insured and verified drivers have several years of recovery and vehicle transportation experience, as well as a professional and courteous demeanour.
About CC Recovery Dublin
After years of expertise in the recovery and towing sector, we founded CC Recovery Dublin with a simple but all-encompassing vision: not only to provide the urgent, respectful, and professional towing services that motorists in Dublin need, but also at the industry's most cheap rates. We make every effort to prioritise customer assistance.
Our tow trucks are capable of mild to medium-duty towing. We provide service 24 hours a day, seven days a week since we understand that vehicle breakdowns do not occur at convenient times. Whenever and whenever it occurs, CC Recovery Dublin will be there to assist you.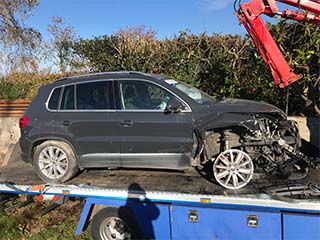 We offer 24/7 vehicle recovery Towing and breakdown   assistance
From Dunshaughlin Navan Trim  Ratoath Ashbourne  with pride and passion
% customer satisfaction is our number one priority